---
ListPlex Features and Benefits
Service Features
Full Server Redundancy: The ListPlex service is run on a cluster of servers, which provides the best possible reliability through a redundant system that never goes down.
Relocation Flexibility: Since L-Soft offers both licensing and outsourcing, the ListPlex service can be migrated from our servers and taken in-house with minimal effort and disruption or vice-versa.
Individual Domain Name: ListPlex allows you to use your own virtual domain name for your outsourced email lists. This enables you to integrate your email lists with the rest of your operations.
Customizable Web Interface: The Web interface can be completely customized to fit seamlessly with your existing Website, which allows you to maintain a uniform look and feel for your entire Web presence.
Virus Protection: The ListPlex service offers built-in virus protection. The system scans all messages for viruses before delivery, keeping your lists safe and secure.
List Owner Features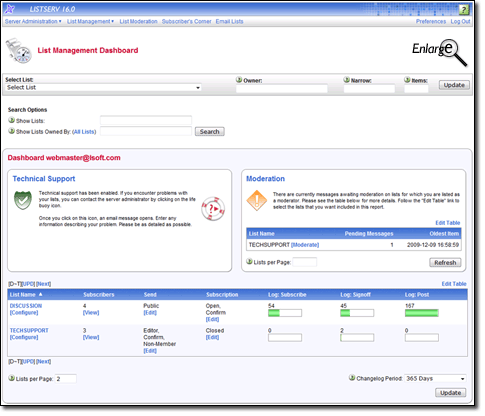 Supports All List Types: ListPlex supports all types of mailing lists, including email newsletters, announcement lists and both moderated and unmoderated discussion groups, offering unprecedented versatility for all email list initiatives.
Automatic Subscription Handling: ListPlex allows users to automatically subscribe, unsubscribe and maintain their subscription settings through the Web interface. Bounces are automatically handled, saving time and eliminating manual processing.
Searchable Web Archives: ListPlex automatically maintains searchable message archives that offer full support for both text and HTML messages as well as attachments.
Newsletter Template Gallery: ListPlex comes with a gallery of pre-designed and tested HTML newsletter templates that customers can use as-is or modify as needed. Newsletters can be created by simply clicking on placeholders and filling in the content.
RSS Support: ListPlex supports RSS feeds, allowing subscribers to view messages using an RSS reader. RSS abstracts are generated automatically from the text of the message, or they may be specified explicitly.
See ListPlex Feature Checklist »
ListPlex Overview | Features & Benefits | Feature Checklist | Virus Protection
Service Options & Pricing | Support Options
Request Information
---
LISTSERV is a registered trademark licensed to L-Soft international, Inc.
All other trademarks, both marked and unmarked, are the property of their respective owners.
See Guidelines for Proper Usage of the LISTSERV Trademark for more details.