Tech Tip (LISTSERV Maestro) – Issue 2 – 2006
Q: When sending a LISTSERV Maestro mailing to a regular LISTSERV list, only blind tracking is possible. How can I get the richer set of tracking options and still get the benefits of a LISTSERV list, such as archives?
Answer by Françoise Becker
VP Software Engineering, L-Soft
There are several possible solutions, depending on which tracking features and which LISTSERV list features are desired. Three of these solutions are described below:
Use a LISTSERV list with Mail-Merge=Yes
Use a Maestro Hosted LISTSERV List (HLL)
Use a Maestro Hosted Recipient List (HRL) to which a LISTSERV list is subscribed for archival purposes only.
LISTSERV list with Mail-Merge=Yes
Simply adding Mail-Merge=Yes to any LISTSERV list accessible to LISTSERV Maestro will expand the tracking options for "Send job as standard list message to list members" to include Personal Tracking and Unique Tracking.
The only available merge fields in a traditional LISTSERV list are *TO (the email address of the recipient) and NAME.
The most likely "ID column" to use for Personal Tracking is *TO, unless you can guarantee that the name fields are all unique.
For Unique Tracking, an untraceable unique ID will be randomly generated for each recipient.
Maestro Hosted LISTSERV List
If additional data fields besides the name and email address are desired for merging into the message, the LISTSERV list needs to use a DBMS back end. The easiest way to implement that is to use a Maestro Hosted LISTSERV List.
LISTSERV Maestro has the ability to "host" data for use in mailings. A LISTSERV Maestro Dataset can have any number of data fields associated with each recipient. Recipient data is stored and managed in the dataset by Maestro. Maestro can automatically generate Web pages where subscribers can update their own data and subscribe to mailing lists. Each mailing list within the dataset can also have data associated with it in addition to the dataset data.
There are two types of mailing lists that can be defined in a dataset:
A Maestro Hosted Recipient List, or HRL, identifies a list that is available only within LISTSERV Maestro. HRLs are used solely for announcement or newsletter type mailings. A Maestro job must be defined to send mail to these subscribers, but there are very flexible and powerful tools for targeting subsets of the recipients. For example, a target group can be created to send a particular message only to subscribers in a given age range in certain states, and the age range and choice of states can be selected when each mailing is created.
A Maestro Hosted LISTSERV List, or HLL, simply provides a DBMS back end to a LISTSERV list. Since it is within a Maestro dataset, the data is stored and managed by Maestro, and the Maestro-generated web pages allow the subscribers to manage their data and subscriptions. However, since it is also a LISTSERV list, those functions available to LISTSERV lists are also available in the HLL: archives, digests, topics, list-specific auto-delete settings, discussion lists, moderated lists, and so on.
To use an HLL in the recipients' definition of a Maestro mailing, simply choose "Send to an Existing LISTSERV List" and select the HLL. If the HLL was created with Mail-Merge enabled, the tracking options available are, as above, Personal Tracking, Unique Tracking, and Blind Tracking.
All fields in the dataset definition and in the list definition are available as merge fields when defining the message content. Any unique field (for example a customer ID) can be used as the ID Column for Personal Tracking.
Archival LISTSERV list
If it is necessary to subset the recipient lists beyond what is available by using LISTSERV list topics, or if Anonymous Tracking is needed, then an HRL must be used. HRLs are also required if any of the data fields are selection fields.
In order to provide archives for mailings to an HRL, it is necessary to create a LISTSERV list that will be used solely for archiving, not for subscribing, and subscribe that archival LISTSERV list to the HRL.
Simply create a traditional LISTSERV list with Subscription=Closed or an HLL with "No public access" (meaning that no one can subscribe to the list). Define the list to have archives.
Subscribe the list address to the HRL. Enter generic data for the archival list's subscription, for example "List Subscriber" in a name field so that if messages use content such as "Dear &NAME;", the archived message will read "Dear List Subscriber".
If you will be sending a lot of messages to different subsets of the HRL, and you want all of the messages to be archived, regardless of the subset they are sent to, then you will need to create the target groups so they always include the list address. One way to do this is to add a hidden Boolean field in the HRL that identifies the archival subscription (see Figure 1). Then add the archival list address to the HRL, checking that archival identification field (see Figure 2). That same field can also be used to identify other special subscriptions that should always receive a copy of every mailing. Because the field is hidden, the field can only be set by the Maestro list managers and the subscribers never see it. Finally, when creating target groups, make sure that every target group also includes those recipients that have this field set (see Figure 3). Whether or not to include the archival address in a particular mailing can even be made a target group parameter (see Figure 4).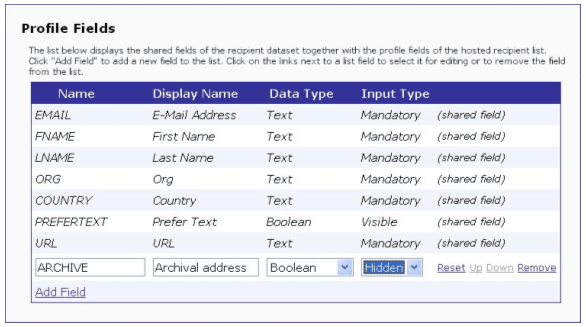 Figure 1 Define a hidden field to identify the archival list address.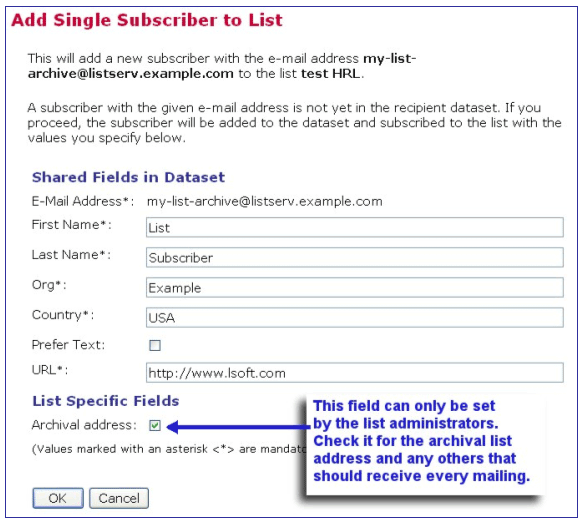 Figure 2 Add a subscription for the archival list and set the archival field.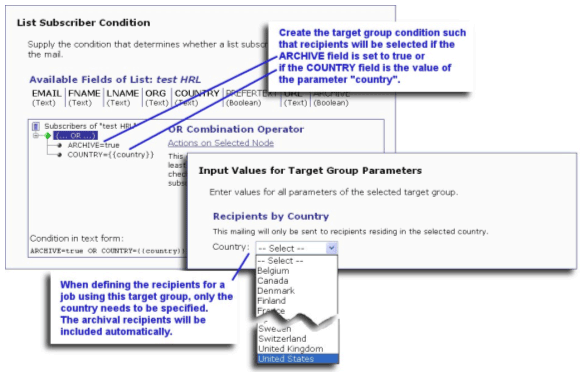 Figure 3 Create the target groups to always include the archival subscription(s).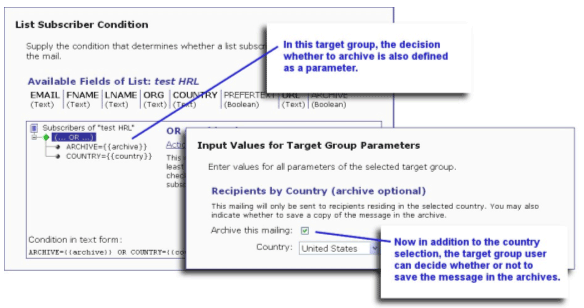 Figure 4 Alternatively, you can make archiving optional.
Depending on your needs, other combinations of LISTSERV Maestro lists may be useful. L-Soft Consulting Services can provide your organization with in-depth customized assistance. See www.lsoft.com/products/consulting.asp for more information.