---
LISTSERV Choice Awards 2012: Rules
Jury Process and Decision
Like previous years, the public will be able to vote for their favorite lists and to keep tabs on how each list is doing in the polls. The voting consists of individual monthly contests, and the counters will be reset at the beginning of each month. The polls will open April 1, 2012, and close August 31, 2012.
In any given month, the nominated list that receives the highest number of votes and has not already qualified as a finalist will become that month's finalist. Five different finalists will be selected, one for each month of voting: April, May, June, July and August. A list may receive the highest actual number of votes in more than one month, but all five finalists will be given equal jury consideration for the grand prize award.
After the monthly voting closes for each month, L-Soft will tabulate the votes and announce the monthly winner that has advanced as a finalist. The L-Soft jury and CEO Eric Thomas will select the grand prize winner from the five finalists. The decision of the jury is final.
Stay tuned to L-Soft's LISTSERV at Work newsletter as we report about the progress of the voting until the end of 2012 when we announce the grand prize winner.
Awards and Prizes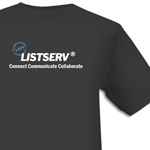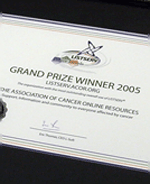 Everyone who nominates a new list and submits a valid, completed nomination form to L-Soft will receive an L-Soft promotional item as a thank you (up to 3 promos per list). The first nominator for a list will receive an additional limited-edition LISTSERV 25th anniversary pin.
All email lists that run on L-Soft's LISTSERV email list software or LISTSERV Maestro email marketing software (including email newsletters, announcement lists and discussion groups) are eligible.
The Grand Prize Winner (the email list owner or administrator) will receive:
A special framed certificate, signed by Eric Thomas, L-Soft CEO and creator of LISTSERV
Additional software licenses or hosting services, based on L-Soft's assessment
10 L-Soft t-shirts to raffle among email list subscribers
An award logo that the organization or email list owner can use, for example on the email list subscription web page
A special grand prize award
The winning email list will be featured in the LISTSERV at Work newsletter and in press releases and other communications, according to L-Soft's discretion.
For more information about the LISTSERV Choice Awards, visit:
Overview | Rules | FAQ | Hall of Fame | Spread the Word
For questions, contact: choiceawards@lsoft.com.
---
LISTSERV is a registered trademark licensed to L-Soft international, Inc.
All other trademarks, both marked and unmarked, are the property of their respective owners.
See Guidelines for Proper Usage of the LISTSERV Trademark for more details.