LISTSERV Test Licenses
L-Soft provides LISTSERV test licenses to meet your need to run critical email communication services in professional IT environments. The test licenses are identical to LISTSERV production licenses but can only be used for traffic to test addresses and not for production traffic. There is no restriction on what can be stored on the test system, only on outgoing traffic.
The LISTSERV Test Environment Helps Ensure Smooth Email Services
A sound LISTSERV test environment helps you to proactively ensure that your site customizations and critical information flow run as they should. This helps you with must-have preparations for important and even critical messages that people rely on, including: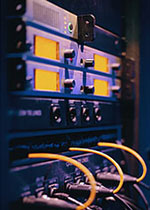 Emergency alerts
Law enforcement bulletins
Natural disaster preparedness notifications
School lockdown announcements
Severe weather warnings
Breaking news headlines
Government agency announcements
Network disruptions
Service outages
Traffic alerts
Common Testing Needs
New Versions and Configurations
Many larger sites deploy test environments with new LISTSERV versions, upgrades and patches as a standard routine. Your server level administration tasks, including site configuration changes, DB connectivity, AD configuration and API tasks benefit from a focused test environment.

Web Interface Customizations
Larger LISTSERV sites almost always use web interface customizations to comply with internal policies. For these IT environments, a test server is highly recommended. The LISTSERV interface offers flexible customization opportunities for your integrated email list, web and database communications.
To meet the needs of your growing mobile audiences, the LISTSERV web interface is fully responsive with high customization opportunities on both your overall LISTSERV site and the individual LISTSERV email list levels. This provides new opportunities to enhance your LISTSERV user experience to the fullest, benefiting every user level: site administrator, list owner, moderator, editor and list subscriber.

To start benefiting from a LISTSERV test license, contact L-Soft today.
LISTSERV Overview Feature Checklist
Operating Systems Hardware Requirements
License Sizes and Pricing Technical Support
Remote Installation Renewal Details
Upgrade Center Test Licenses
LISTSERV Demo Request Information
---
LISTSERV is a registered trademark licensed to L-Soft international, Inc.
See Guidelines for Proper Usage of the LISTSERV Trademark for more details.
All other trademarks, both marked and unmarked, are the property of their respective owners.